Mission Statement
The Southwest Celtic Music Association was formed to study, perform, promote and preserve traditional Celtic music, dance and culture in the Southwest.
The word "Celtic" refers to the culture that developed in Ireland, Scotland, Wales, Cornwall, Brittany, Galicia, and the Isle of Man. Much of the traditional music and dance that has evolved in the United States and in many other English-speaking countries in the last 250 years has developed from Celtic origins.
The SCMA attempts to increase public awareness of the rich cultural heritage of the Celts and its enduring efforts on our own culture as found in the United States. The SCMA sponsors concerts, music and dance workshops, provides referrals for entertainers, organizes regular sessions, and supports other cultural associations with similar purposes.
Through its Scholarship Fund the SCMA contributes up to $1,000 annually to young musicians and dancers to help them in their chosen activities.
The First Texas Ceili
Bands playing at that First Texas Ceili were:
Stone Soup
Sungarden
Grimalkin
Westron Wynde
Connemara
Judith Romero
Pat McCarthy
Tinkers Dam
Four Bricks out of Hadrian's Wall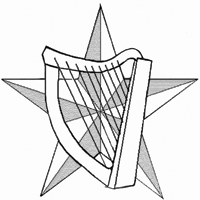 The Star and Harp design by Russ Alvey was the first NTIF and SCMA logo.